Be prepared, not panicked.
That's been Blount Memorial Hospital's plan from the beginning as it's approached preparing for a potential COVID-19 outbreak in our community.
As hospital leaders worked through steps of its plan and modeled potential impacts the virus could bring to Blount County – and, more specifically, inside its four walls, they identified that hospitals in some of the hardest hit countries were struggling to find personal protective equipment (PPE) for their employees to wear due to challenges in the supply chain, specifically related to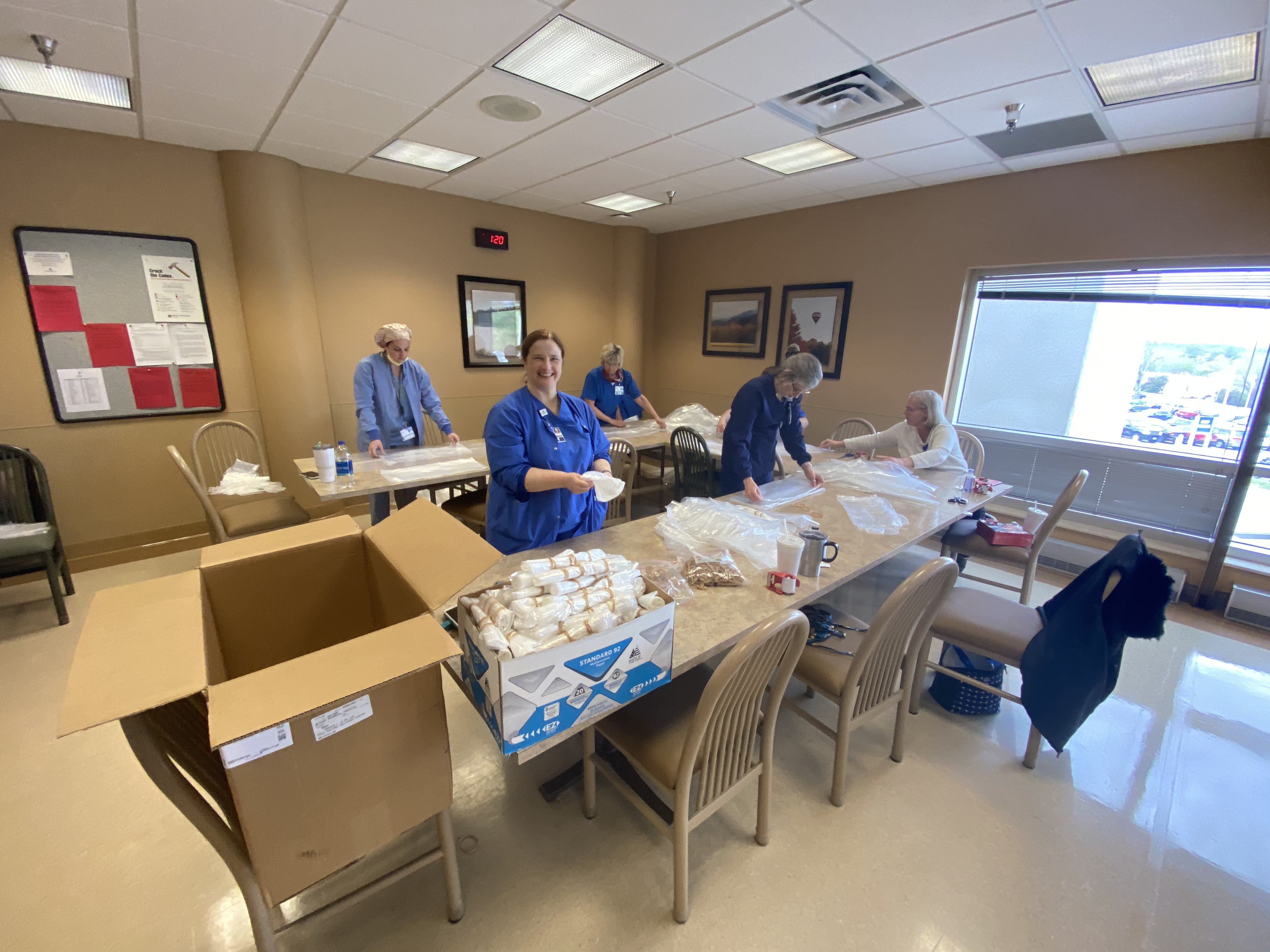 gowns and masks.
"We have watched this virus impact a number of countries across the globe, and what we continued to see was that PPE availability was a challenge for nearly all of them," says chief medical officer Dr. Harold Naramore. "We made the decision early on -- back in February -- that we needed to investigate all alternate options of PPE, as we know that protecting your people – your doctors, your nurses, your clinical staff and your entire workforce – in a healthcare setting is crucial to ensuring your facility's ability to care for its community, even in the worst of situations."
Teams began to delve into what alternatives might be available and began investigating the validity of nearly every option they found. "We brought every idea to the table, and we've vetted just about everything that we can think of – and that other hospitals have thought of."
The result of these investigations and validations has given the hospital its own supply chain for alternate PPE, and it's one that is being run in-house by Blount Memorial's existing employees.
"Through our investigations, we have been able to create our own disposable gowns and most recently, have begun the creation of N95s," Naramore says. "These are two of the items that we felt were most critical for our organization, as they're both items that the national supply chain is struggling to support among COVID-19 outbreaks in most communities."
The internal creation of alternate disposable gowns began on March 27, and production of the N95 masks, which Naramore says have also passed a respirator fit test, began on April 1. Hospital employees from departments in our system that may have worked in areas that have closed due to various executive orders issued by the state of Tennessee or employees who work in areas that have seen a drop in their area's workload have found new jobs – helping to ensure our front-line clinicians are ready to care for COVID-19 patients.
"Our employees have really stepped up and approached their 'new jobs' with excitement and support for helping our organization prepare for an outbreak," Naramore says, adding that they are cranking out the production, as well. "In three days, our employees who are making disposable gowns have produced 3,814 total gowns," Naramore says. "I understand that in one day, the group cranked out 1,882 gowns, which was a record high for a single day production. That's amazing."
The internal manufacturing of N95 masks will not be as fast as the gown production, Naramore says, but it's certainly underway. "The intricacy and detail required to create a usable N95 mask are different than most other cotton masks that are being sewn by so many in our community." The N95 uses materials that already exist in health care environments, and hospital employees are helping to prepare the sewing kits so that they can be sewn to meet very specific guidelines. "To start with, we understand that individual N95 masks can take up to one hour to make," Naramore says, emphasizing that the masks are specialized and are designed to protect against droplet exposures.
As of Thursday, April 2, there were 850 N95 masks in production, and hospital officials are excited about this number and see it continuing to grow.
Hospital CEO Don
Heinemann spent time thanking the hospital employees who have been working to help ensure their peers have PPE available in the coming days, weeks and months, should it be needed. "I am so proud of the teamwork that I've seen among our employees," he says. "Our physicians are appreciative, too, as this alternate PPE is something they'll potentially be using, as well."
General and minimally invasive surgeon Dr. Stephen Pacifico is one of the physicians who may be using some of the alternate PPE, and when he first saw the hospital-made disposable gown option, he was pleased.
Pacifico, a Maryville native, also has spent the last week shadowing his physician colleagues who traditionally care for patients in a critical care setting, as he'll be one of the physicians who may not just be wearing alternate PPE, but who will be in a different care setting.
"When we started looking at the hospital's plan to best utilize its physicians to care for our community, I saw the opportunity to begin preparing myself to step into an area of medicine that's outside my specialty area of surgery to help our hospital and our community, should that become a need," Pacifico says, adding that his day-to-day schedule was impacted by the Governor's executive order to cancel all elective procedures.
"Right now, we're all looking at how we can best help the hospital care for our community, and we're doing it on the front end, so that we're ready if and when an outbreak hits," Pacifico says. "I'm not the only physician doing this, and I can say that my colleagues and I will be here ready to help in any way possible."
Heinemann emphasizes that this type of attitude is one that he's seeing and hearing throughout the hospital system, and it's one that makes him proud.
"When times are tough in any facet of our lives, it's human instinct to retreat, somewhat, to what's comfortable.
"For health care, that's not an option – and it's certainly not in our plan," he says, emphasizing that we're going to continue to prepare and not panic.
"We're going to continue to prepare ourselves for the worst-case scenario because that's what is in our community's best interest," Heinemann says. "We hope, that in six months, we can look back and say we made too many alternate disposable gowns and that we made N95 masks but never had to use them.
"That would be a really good day for our hospital and our community."