"It's a miracle."
Those are the words of Tonya Jones who is recovering from COVID-19.
On Friday, May 8, Jones became the first patient at Blount Memorial Hospital to receive convalescent plasma as part of her treatment. And just eight days later, on May 16, she was able to go home -- with doctors, nurses and other hospital staff saluting her on her way out of the building.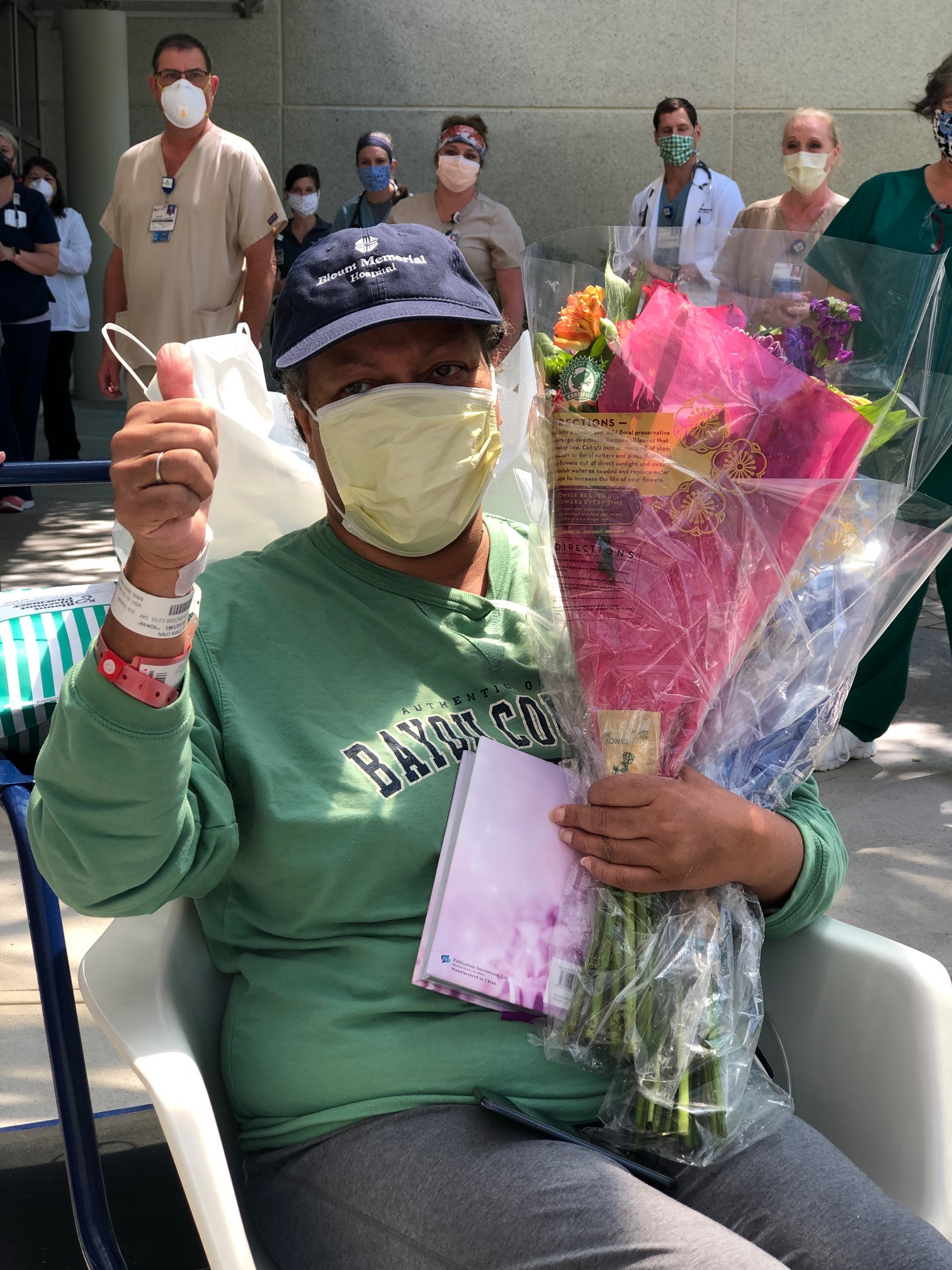 It all started for Jones when she had that inkling "something was just not right," she said. With an "off" feeling, coupled with pain in the chest area that radiated around to her back, body aches, chilling and vomiting, Jones sought care from her doctor, who tested her for COVID-19. When her results came back positive, she continued to recover at home and quarantine herself as directed, just as she had while awaiting the test results.
All was fine, she said, until one day, sitting on the edge of her bed, she couldn't stop gagging and vomiting. "I had a hard time breathing," Jones said. "My breath was short, not all the way gone, but I was having a really hard time breathing."
After consulting with her primary care provider by phone, Jones was directed to go to the emergency room at Blount Memorial Hospital. At this point, she said she was steadily coughing and vomiting. "It was miserable," Jones said. "I wouldn't wish that feeling on my worst enemies."
At the hospital, Jones was cared for by hospitalists, including Dr. Deaver Shattuck, in an area dedicated to the care of COVID-19 patients. Three days after being admitted to the hospital, though, Jones' condition worsened, and she had to be moved to the hospital's intensive care unit.
"Our biggest challenge in taking care of her was the amount of oxygen she was requiring to maintain an adequate blood oxygen saturation," said pulmonologist Dr. Andy Waller, who cared for Jones in the intensive care unit. At this point, Jones was receiving 100 percent high-flow oxygen, which meant the next step for her was most likely being put on a ventilator.
As Shattuck and Waller continued to monitor Jones and care for her, they identified her case as one that could benefit from the use of convalescent plasma, as she was seriously ill.
"Plasma comes from a donor who has had COVID-19 and has recovered from the disease," Waller explained. "The plasma contains antibodies against the virus, thus assisting the patient's immune system in its fight against the virus." Currently, there are no approved medications or vaccines to treat COVID-19.
In April, Blount Memorial Hospital joined in Mayo Clinic's effort to collect donated plasma from qualifying recovered COVID-19 patients with intent to make that plasma, and the antibodies found in it, available to the sickest COVID-19 patients. The hospital's participation in the Expanded Access Program enabled its patients to be eligible to receive donated plasma, if needed.
"It's very, very important for the general public to understand this is not like a drug where we can ramp up the production line of the drug company," said Dr. Michael Joyner, head of the Expanded Access Program at Mayo Clinic. "This is a biological product that has to be obtained from a specific set of patients who have recovered from COVID-19, who meet rigorous criteria and go through a process of obtaining this material. And then it has to be distributed."
Jones' declining condition and the severity of the disease, Waller said, were key factors in him, on behalf of Blount Memorial, reaching out to Mayo Clinic and requesting to use the donated plasma for Jones.
"The collaboration between Blount Memorial and Mayo Clinic has opened up many opportunities to improve the care of our patients and to utilize the resources and expertise of Mayo Clinic," Waller said, also emphasizing that he's proud of the effort that Blount Memorial and its people have put forth to ensure the hospital is prepared to handle this pandemic.
Almost instantaneously, Waller, who also completed his residency and fellowship training through Mayo Clinic, received the approval to administer donated plasma to Jones, who agreed to try the transfusion.
"She, clinically, looked better, felt better and her oxygen requirements and chest X-ray stabilized within 24 to 48 hours," Waller said, noting that by the third day, there were clear improvements. "Most importantly, she did not ultimately require being placed on a ventilator."
Jones remained in the intensive care unit for five days, but just four days after receiving the plasma, she was able to return to a more-standard patient room. "She's been super talkative, which is a really good sign," Shattuck said as he visited with her on the floor Friday morning. "She's just got a little cough left."
Shattuck says the amount of oxygen she had to receive dwindled each day after receiving the plasma, going from 100 percent oxygen down to 28 percent. "That's key, especially when you realize that we breathe, without assistance, oxygen at 21 percent every day as part of the air we breathe in the atmosphere."
Jones, also known as "Ganna" to her three grandchildren, said in addition to the plasma and team of doctors who cared for her, her savior Jesus Christ also had his hands involved in her recovery. "I could have been gone," she said, sitting in her hospital bed with her Bible in her hands as she did her Bible study. "I was saved before now, and I thank him every day."
She also has a great appreciation for her mother. "We have always had a loving relationship," Jones said. "I have a habit of telling her I love her and I appreciate her, but I'm going to take more time to really mean it," she said. "The first thing I'm going to do is hug her, and my grandbabies, when I can."
Jones says she also hopes that others learn a few things from her battle with COVID-19 and that if they are ever diagnosed and are eligible to receive donated plasma, they should take it. "Go for it. Don't even think about it," she said. "What can you lose if you don't try it?"
Shattuck agreed, adding that her recovery was dramatic almost immediately after she received the plasma. "That was very promising to see," he said, emphasizing that the science on convalescent plasma use will continue to take time to be definitive.
"One thing I do know for certain is that our collaboration with Mayo Clinic has put us at the cutting edge for treating this disease, and right now, I believe this is the best option for the care of seriously ill COVID-19 patients."