For Greg Stephens of Maryville, it wasn't just his bad allergies that had him feeling under the weather.
"I got sick, and usually this time of year, I always have bad allergies," Stephens said, thinking he'd spend a few days taking over-the-counter medications and then feel better. However, as he started to feel worse, his sister, who is a nurse, encouraged Stephens' wife to take him to be tested for COVID-19.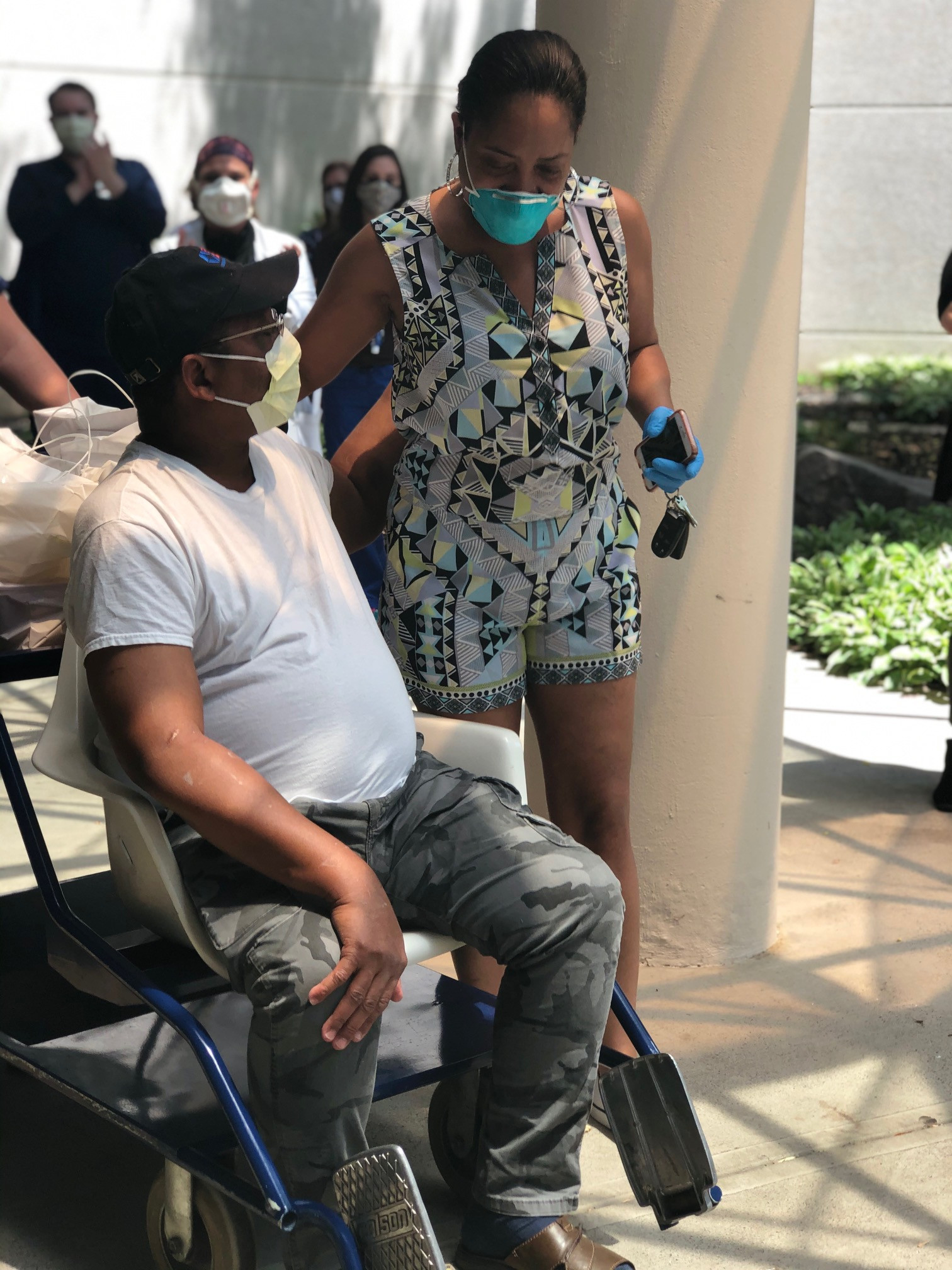 "I went to my primary care doctor, Dr. (Andrew) Dirmeyer, and I was tested for COVID-19 on a Wednesday," he said. Stephens didn't have to wait long for test results from East Tennessee Medical Group in Alcoa, as they were available to him the next morning. He tested positive for COVID-19.
He remained isolated at home, and within a day or two, Stephens said he had developed a fever and was experiencing shortness of breath. "It got to the point that I couldn't take a shower without sitting down to rest." He was told by caregivers who called to check in on him to go to the emergency room.
Stephens arrived at the emergency room at Blount Memorial Hospital at 11:35 on a Saturday, where his 11-day journey began.
"I've never been sick, and I've never been in the hospital," Stephens said. "I have always been healthy." In fact, he says that as COVID-19 was developing and starting to spread, he had taken all the proper precautions as part of his daily routines.
"I was afraid of the unknown," he said. "I was social distancing, and I was wearing a mask. I tried not to be too close to people at work – I was not just protecting myself, but I was protecting other people."
At the hospital, Stephens said he remembered his physicians telling him that his oxygen levels were low, and he remembers that he could hardly speak. "I remember Dr. (Robert) Jones telling me 'we've got you on 90 percent oxygen,' and him asking if that level falls, if I wanted to be on a ventilator, and I said yes."
After being admitted to the hospital, Stephens began his stay at Blount Memorial in a traditional patient room, isolated from the hospital's other inpatients. He then was moved to the critical care unit as his condition worsened.
"They told me that I was a candidate to receive plasma," he said, based on his worsening condition. Stephens agreed to the treatment therapy, which continues to be experimental. Plasma comes from a donor who has had COVID-19 and has recovered from the disease. The plasma contains antibodies against the virus, thus assisting the patient's immune system in its fight against the virus.
Stephens also learned that he might be eligible to receive Remdesivir, an experimental antiviral medication that has been shown to have activity against some viruses, including the coronavirus responsible for COVID-19.
"Coronaviruses duplicate by copying their genetic material using an enzyme known as the RNA-dependent RNA polymerase," said Blount Memorial Hospital pharmacy director Rob Lucas. "Remdesivir blocks this enzyme and thus stops the virus from reproducing and making more copies of itself."
Following the hospital's COVID-19 preparedness stance of "being prepared and not panicked," Lucas and his team of hospital-based pharmacists had been following developments of both Remdesivir and convalescent plasma since March.
"In May 2020, Remdesivir was authorized by the United States Food and Drug Administration (FDA) for emergency use in patients with COVID-19. Current studies suggest that Remdesivir may shorten the time to recovery," Lucas explained. "In addition to investigational studies, the federal government acquired several doses of Remdesivir to be used outside of clinical trials and has distributed a limited supply to areas, including Tennessee." Lucas said Blount Memorial contacted the Tennessee Department of Health to try to obtain Remdesivir for Stephens, who did meet the state's criteria for use.
"They began giving me that treatment through my I.V.," Stephens said. "By that Wednesday, my temperature started dropping back down and I started feeling better. I could see myself improving." Stephens was glad to hear his physician confirm that he was making progress, because he said he needed confirmation that someone else was seeing what he was feeling.
"I told myself I was going to be able to walk out of here," Stephens said, recalling the positive conversation. "That was encouraging, and it kept my spirits up." Stephens was able to leave the critical care unit and return to his traditional patient room in an isolated area.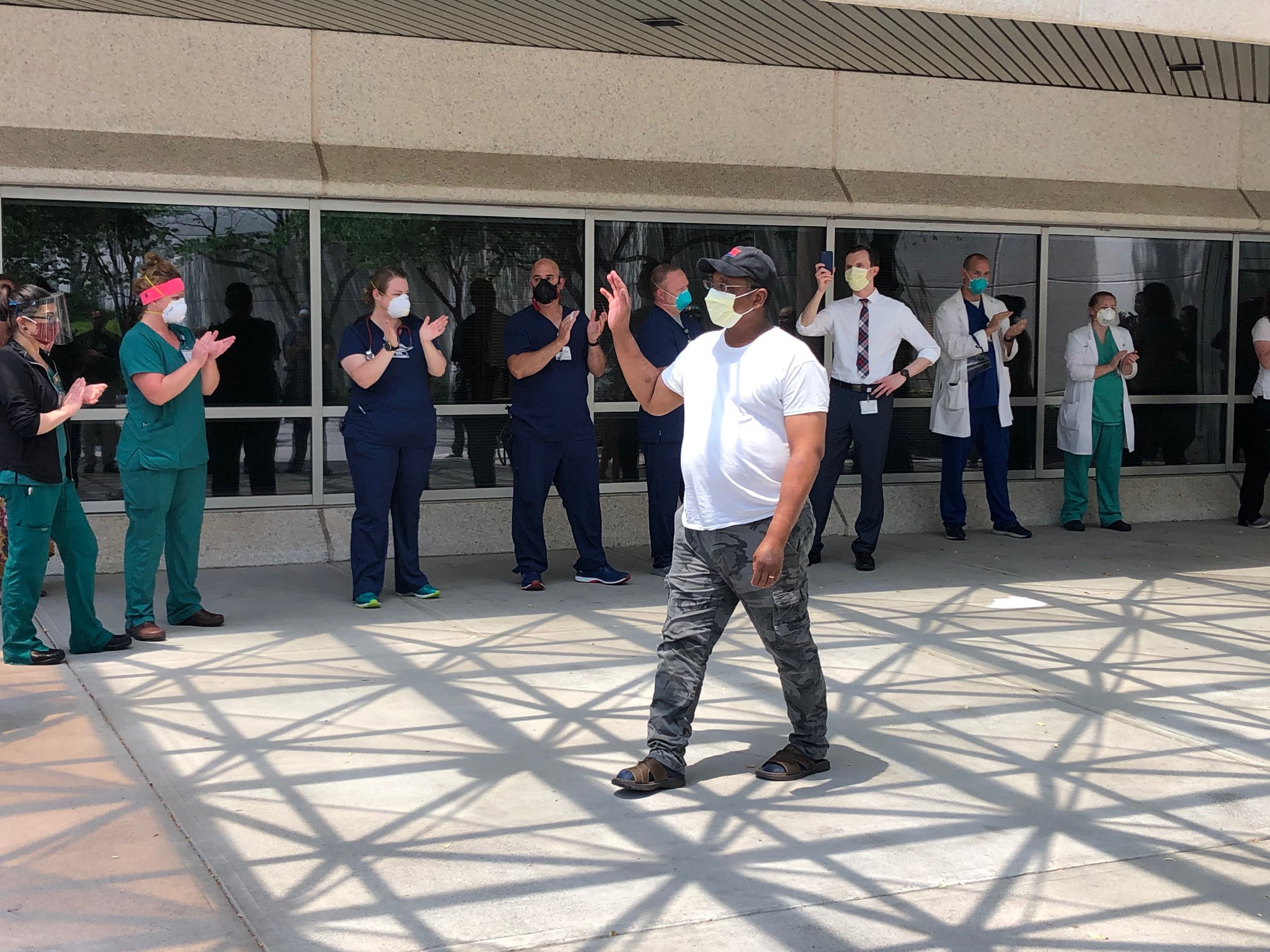 Stephens is the first patient at Blount Memorial Hospital to receive Remdesivir, and he's the first patient to also receive it and the convalescent plasma together. "Using both convalescent plasma and Remdesivir together seems to work well to target and eliminate the virus using two different mechanisms synergistically," said Lucas.
"Everything is a process and study," said Stephens of being the first patient to receive both therapies. "We don't really know what this actual disease is or its progression, but we've got to get it on the front end before it gets too far. If these treatments help me and people can look at my case and say 'this worked for this guy,' then they can also say 'can somebody else benefit?'"
Stephens' positive demeanor shined as he was able to leave the hospital on June 4. Hospital staff, including doctors, nurses and administrators, lined up to salute Stephens as, for the first time in 11 days, he came face to face with his wife, Barbara, who hugged him and then tearfully shared appreciation to everyone involved in his care.
"I love each and every one of you for whatever part you have played," Barbara Stephens said. "Thank you, and I will never forget it." As she gathered personal items from hospital staff, her husband, Greg, got up and walked to the car – just as he said he would.
Stephens will continue his recovery at home. "I'm going to get back home, take a good long shower, and then go out on the back porch and look to the heavens and say thank you," he said. "Then, I'm going to watch the birds go by and start to have a normal routine."
As he returns to his normal routine, Stephens says he wants people to stay at a heightened awareness – not a scared awareness -- with COVID-19. "I believe in doing the right thing," he said. "If you feel sick or you think you're sick, go get tested, and then share that with people. Let them know something is going on or wrong.
"If we do this, we can get it on the front end – before it gets too far."