After partnering with The DAISY Foundation™ earlier this summer to acknowledge the extraordinary and compassionate care nurses provide, Blount Memorial Hospital has its first DAISY Award for Extraordinary Nurses® recipient.


Registered nurse Halley Coleman from Blount Memorial's SICU received her DAISY Award early Thursday morning, along with a DAISY pin and a certificate commending her as an "Extraordinary Nurse." Coleman was nominated by her co-worker Barbara Enloe, who submitted the nomination after Coleman cared for her husband while he was battling COVID-19.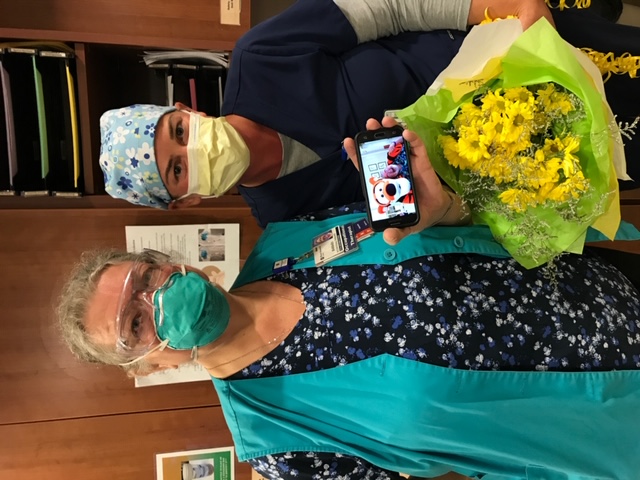 "My husband, John, was a 59-year-old patient in SICU for three weeks as a result of COVID-19," Enloe said in Coleman's nomination. "Halley did so much for me, as well as my Beloved. Several times at night, she would put the phone by his ear so I could talk to him since I wasn't allowed to see him. It was a comfort to know he heard me. She was there the night he died after I had gotten to see him the afternoon before. It was such a gift to know that the nurse taking care of him knew how much being apart was tearing at me. Her kindness will never be forgotten."
Enloe was on-hand to present Coleman with a Healers Sculpture on Thursday. Coleman also became the first nurse to sign the hospital's DAISY honoree banner, which hangs in the SICU on the hospital's second floor.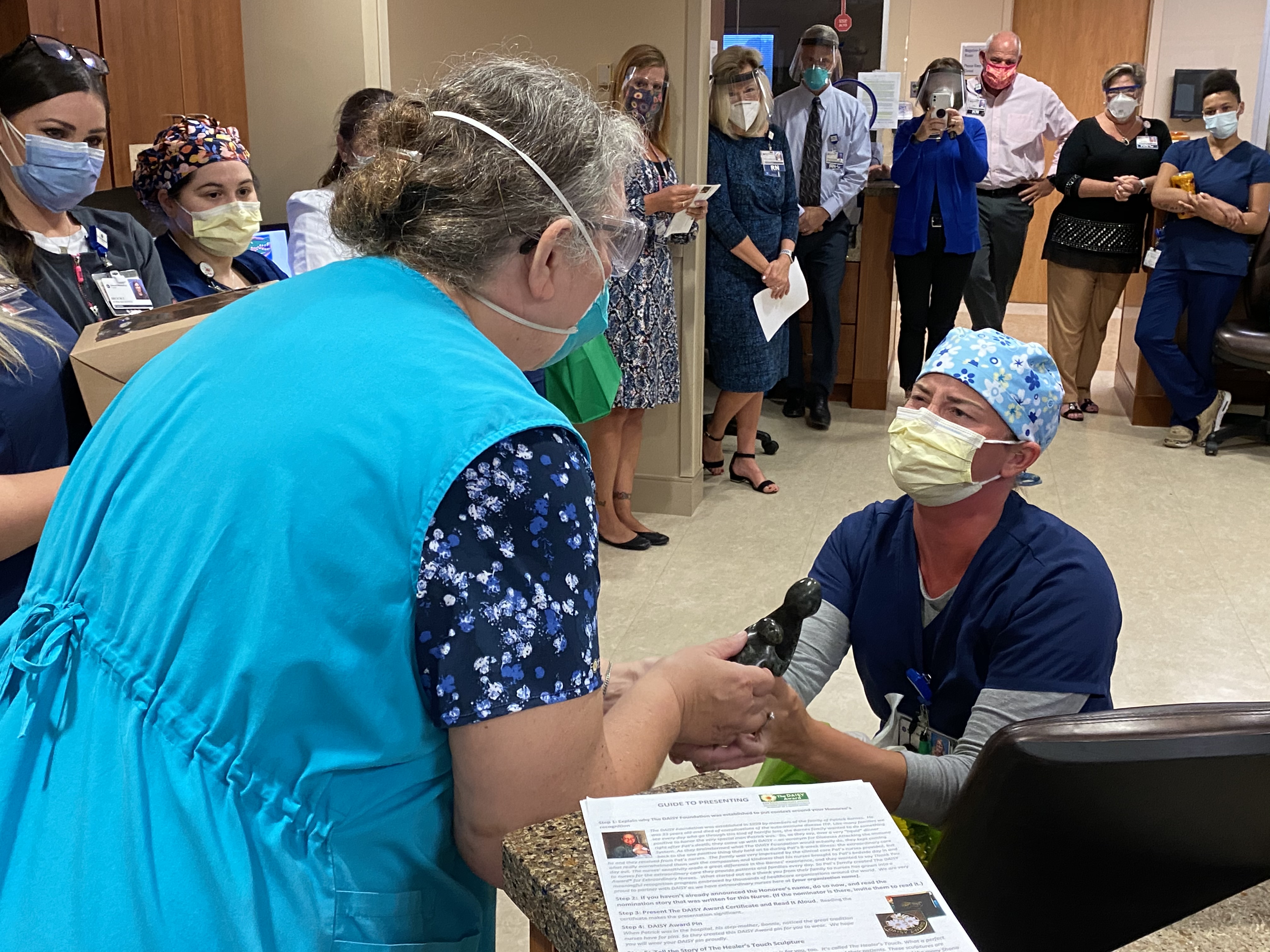 "We are fortunate to be able to honor extraordinary nurses like Halley in this way," said Blount Memorial chief nursing officer Sonya Large. "This is just one of the many stories of outstanding care being provided at Blount Memorial Hospital every day, and we hope others will share their experiences and recognize extraordinary nurses by submitting a DAISY Award nomination," she added.
Blount Memorial's association with The DAISY Foundation™ gives patients, family members, co-workers, visitors and colleagues the opportunity to nominate a nurse for the extraordinary, compassionate nursing care he or she provides. Award recipients are chosen by a committee at Blount Memorial to receive The DAISY Award for Extraordinary Nurses®. Awards are presented throughout the year.
DAISY Award nomination forms are now available throughout the hospital and at blountmemorial.org/daisy.
The DAISY Foundation is a not-for-profit organization, established in memory of J. Patrick Barnes, by members of his family. Patrick died at the age of 33 in late 1999 from complications of Idiopathic Thrombocytopenic Purpura (ITP), a little known but not uncommon auto-immune disease. (DAISY is an acronym for Diseases Attacking the Immune System.) The care Patrick and his family received from nurses while he was ill inspired this unique means of thanking nurses for making a profound difference in the lives of their patients and patient families.