Blount Memorial Hospital is again adjusting its visitation policy on Tuesday,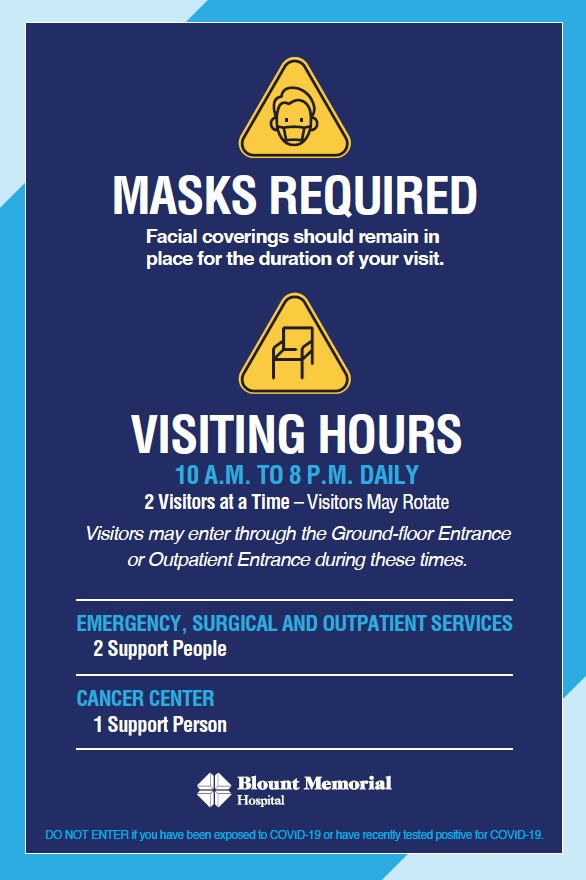 June 1.
Beginning Tuesday, hospitalized patients may welcome visitors between the hours of 10 a.m. and 8 p.m. daily, and up to two visitors may be in a patient room during these hours. Visitors do not have to be designated, and they are able to rotate during the established visiting hours.
No changes are being made to the hospital's existing policy for emergency, surgical and outpatient services patients, which continue to allow for up to two people who may accompany patients for visits and/or procedures. Additionally, no changes are being made in the Cancer Center, which will continue to allow for one support person for visits.
"We are excited to continue to liberalize our visitation guidelines as we continue to see dramatic improvements in the amount of coronavirus in our community, state and nation," said Blount Memorial chief medical officer Dr. Harold Naramore. "Restricting visitation was one of the more difficult things we've had to do in the past year, and every time we're able to loosen it, it's something we do with a smile and hopefulness. Having family and friends and spiritual support while you're recovering in the hospital is something that's valuable, and we're glad to be able to resume this in a way that mirrors pre-pandemic times."
On the patient care side, Blount Memorial will no longer COVID test patients who are being admitted or who are having an inpatient or outpatient surgery if the patients are fully vaccinated and can show their vaccination card, have waited the appropriate waiting period and show no symptoms of COVID-19. For those who do not meet all three criteria, Blount Memorial will continue to require COVID testing as part of the admission process. Additionally, COVID testing continues to be available at the drive-up testing area at East Tennessee Medical Group for those who are symptomatic or who want to be tested.
Tuesday also brings with it the reopening of the hospital's Ground-Floor entrance, which has been closed for more than a year to patients and visitors. The entrance will be open from 10 a.m. and 8 p.m. daily, mirroring visiting hours. Additionally, the hospital's business office and medical records, which have been closed to in-person visits, will reopen to walk-in visitors during normal business hours, which are 8 a.m. to 4:30 p.m. Anyone planning to visit these two areas between 8-10 a.m. should enter the hospital through the Outpatient Entrance, which opens at 6 a.m. daily to allow for outpatient visits and surgical case arrivals.
"These changes are significant for us at Blount Memorial, as they signal another big phase of our continued safe reopening to this community," Naramore said. "I've said all along that we had to sometimes make abrupt changes based on executive orders and the fluid nature of coronavirus in our area, but our plan all along has been to phase things back in cautiously. We, as a community, have worked too hard to just resume 'business as usual' until we know for sure we're to that point. We're almost to that point, as this community is nearing the 100,000-mark for the number of vaccines that have been administered in Blount County. And, I couldn't be happier."
Despite vaccinations, Naramore emphasizes that masks continue to be required in all Blount Memorial facilities. "While we know that our community has heard that if you're fully vaccinated and beyond the 14-day period masks may not be required in indoor settings. However, we're a hospital and health care provider in this community, and we still have regulatory compliance that we're accountable to, so masks must continue to be worn for a bit longer by both our staff and those who are in our facilities." Naramore is hopeful and optimistic that mask usage may change later this year.
While masks are distributed to those who don't have one at our entrances, Naramore asks that people plan ahead and have a mask with them if they have plans to be in any of the hospital's facilities – and to be kind to the staff reminding you to wear one. "We have a responsibility to ensure mask usage, and we'd appreciate your support just a little bit longer. Also, we want to continue to be good stewards of PPE, so please bring a mask if you plan to come onsite."
Naramore hopes that the hospital's continued efforts to reopen fully align with people feeling more and more comfortable catching up on health care that they've delayed since the pandemic's start. "Hospitals are safe places, and doctors' offices are, too. It's really important for our community to understand this and make a commitment to getting the health care they've missed – or they need. We've not begun to see the full costs of COVID yet.
"The health of this community, today and for years to come, depends heavily on people restarting their care and following up on things that need to be addressed. I can't emphasize that enough. It's time."