Registered nurse Damaris "Dee Dee" Leuciuc from Blount Memorial Hospital's 5-north floor received the DAISY Award for Extraordinary Nurses® for December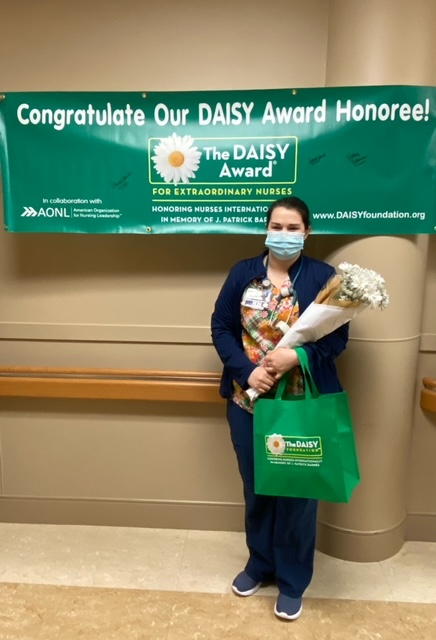 2021.
In addition to the award, she was presented a Healers Sculpture, a DAISY pin and a certificate commending her as an "Extraordinary Nurse." Leuciuc was nominated by one of her patients for the compassion, kindness and respect she provided.
"Out of all the staff that were in charge of my care, you always went above and beyond and never made me feel as if I was just another number," the patient wrote in Leuciuc's nomination. "I had a very rough experience with my stay, but you were the light that gave me hope. Thank you for going above and beyond and giving me encouragement. You definitely always showed compassion and kindness. You can tell you care for your patients and it's not just another job."
Leuciuc became the third nurse to sign Blount Memorial's DAISY honoree banner after the hospital partnered with The DAISY Foundation™ in 2020 to acknowledge the extraordinary and compassionate care nurses provide. The DAISY honoree banner hangs in the SICU on the hospital's second floor.
"Now more than ever, our nursing team is bringing light and hope to our patients in their darkest days," said Blount Memorial chief nursing officer Joe Newsome. "Dee Dee's warm approach and genuine love for nursing highlight the kind of care our staff provide each day. We are grateful to have Dee Dee as a part of our caring community," he said.
Blount Memorial's association with The DAISY Foundation™ gives patients, family members, co-workers, visitors and colleagues the opportunity to nominate a nurse for the extraordinary, compassionate nursing care he or she provides. Award recipients are chosen by a committee at Blount Memorial to receive The DAISY Award for Extraordinary Nurses®. Awards are presented throughout the year.
DAISY Award nomination forms are now available throughout the hospital and on the hospital's website here.
The DAISY Foundation is a not-for-profit organization, established in memory of J. Patrick Barnes, by members of his family. Patrick died at the age of 33 in late 1999 from complications of Idiopathic Thrombocytopenic Purpura (ITP), a little known but not uncommon auto-immune disease. (DAISY is an acronym for Diseases Attacking the Immune System.) The care Patrick and his family received from nurses while he was ill inspired this unique means of thanking nurses for making a profound difference in the lives of their patients and patient families.