Registered nurse Hannah Marcum who works in surgical services at Blount Memorial Hospital received the DAISY Award for Extraordinary Nurses® for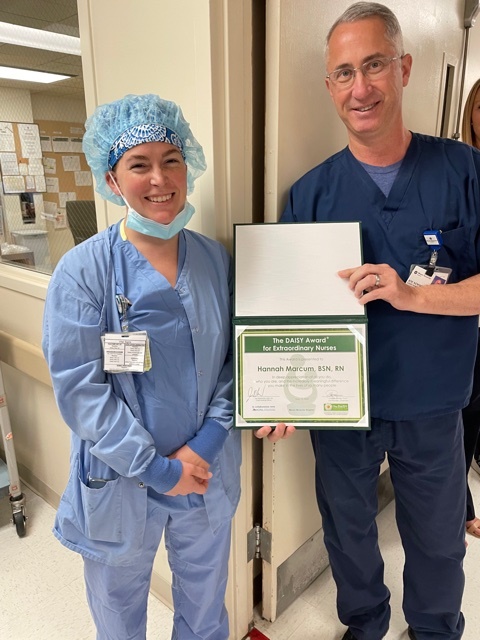 May 2022.
Marcum received her award, a Healers Sculpture, a DAISY pin and a certificate commending her as an "Extraordinary Nurse" on Friday, May 13. Marcum was nominated by the family of one of her patients for making their experience "amazing."
"This young lady is truly a gift from God," the family member wrote in Marcum's nomination. "Even after Hannah was no longer assigned to us, she never missed a day of coming in and checking on us. Thank you, Miss Hannah, for being our guardian angel. Some people's angels watch from heaven, but after meeting Hannah, we are convinced that our angel is here with us on this side of heaven."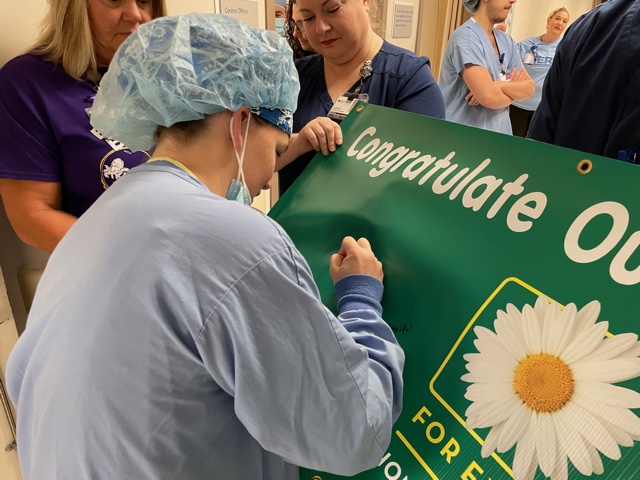 Marcum became the fifth nurse to sign Blount Memorial's DAISY honoree banner after the hospital partnered with The DAISY Foundation™ in 2020 to acknowledge the extraordinary and compassionate care nurses provide. The DAISY honoree banner hangs in the SICU on the hospital's second floor.
"Hannah truly cares from her heart," said Blount Memorial chief nursing officer Joe Newsome. "What a great example of the caring touch that happens every day at Blount Memorial. We are a stronger organization and a healthier community because of nurses like Hannah," he added.
Blount Memorial's association with The DAISY Foundation™ gives patients, family members, co-workers, visitors and colleagues the opportunity to nominate a nurse for the extraordinary, compassionate nursing care he or she provides. Award recipients are chosen by a committee at Blount Memorial to receive The DAISY Award for Extraordinary Nurses®. Awards are presented throughout the year.
DAISY Award nomination forms are available throughout the hospital and online here.
The DAISY Foundation is a not-for-profit organization, established in memory of J. Patrick Barnes, by members of his family. Patrick died at the age of 33 in late 1999 from complications of Idiopathic Thrombocytopenic Purpura (ITP), a little known but not uncommon auto-immune disease. (DAISY is an acronym for Diseases Attacking the Immune System.) The care Patrick and his family received from nurses while he was ill inspired this unique means of thanking nurses for making a profound difference in the lives of their patients and patient families.