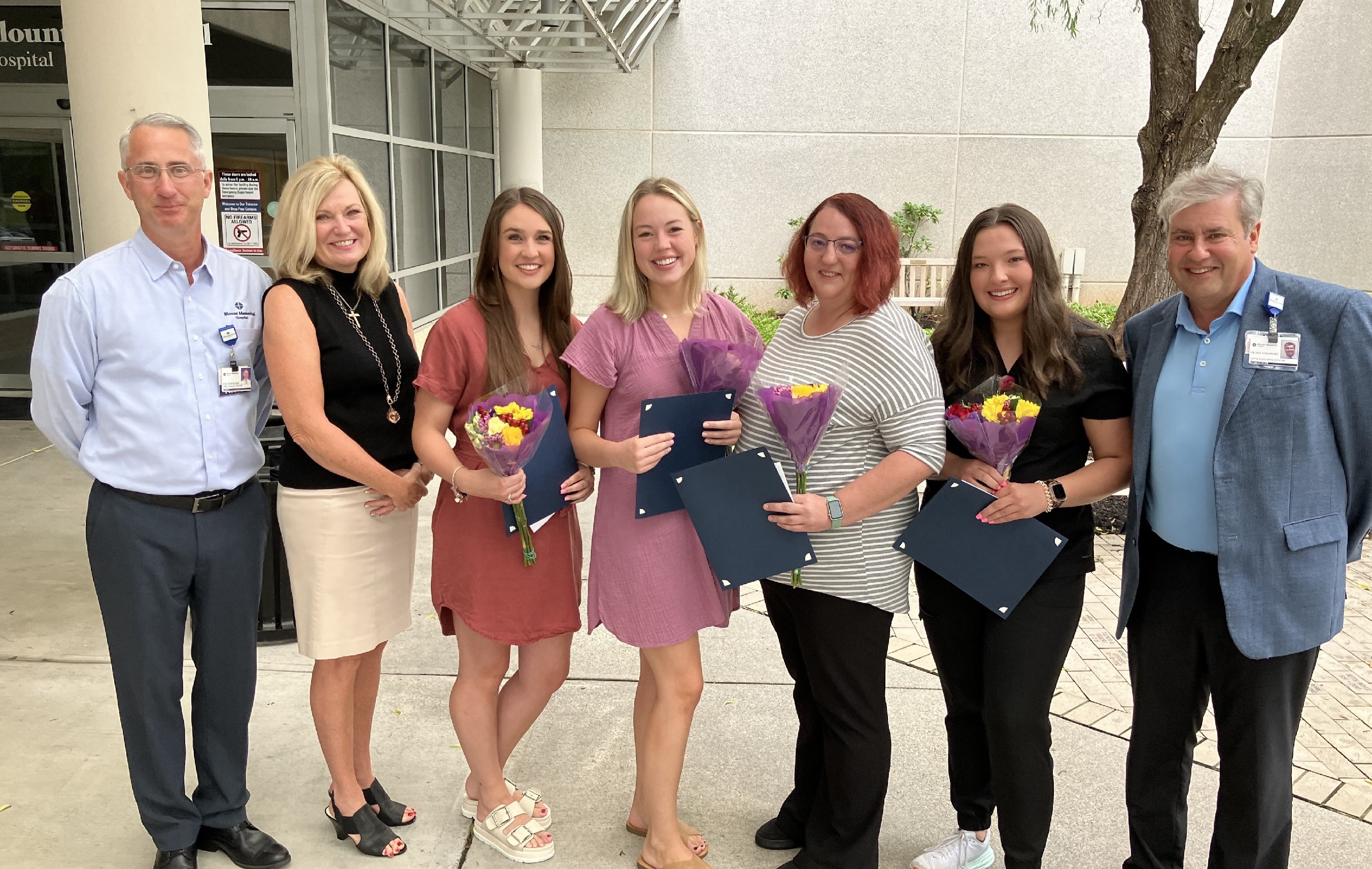 On Friday, July 29, four Blount Memorial Hospital employees were presented scholarships to continue their education in the field of nursing as part of the hospital's Sonya Newman Large Nursing Development Scholarship.
This year's recipients are Morgan Mary, Sydnie Huffstetler, Rebecca Sawtelle and Macy Waters. Each received a scholarship check and a certificate recognizing her achievement.
Mary is a an emergency department technician and certified nursing assistant (CNA) at Blount Memorial, and joined the hospital in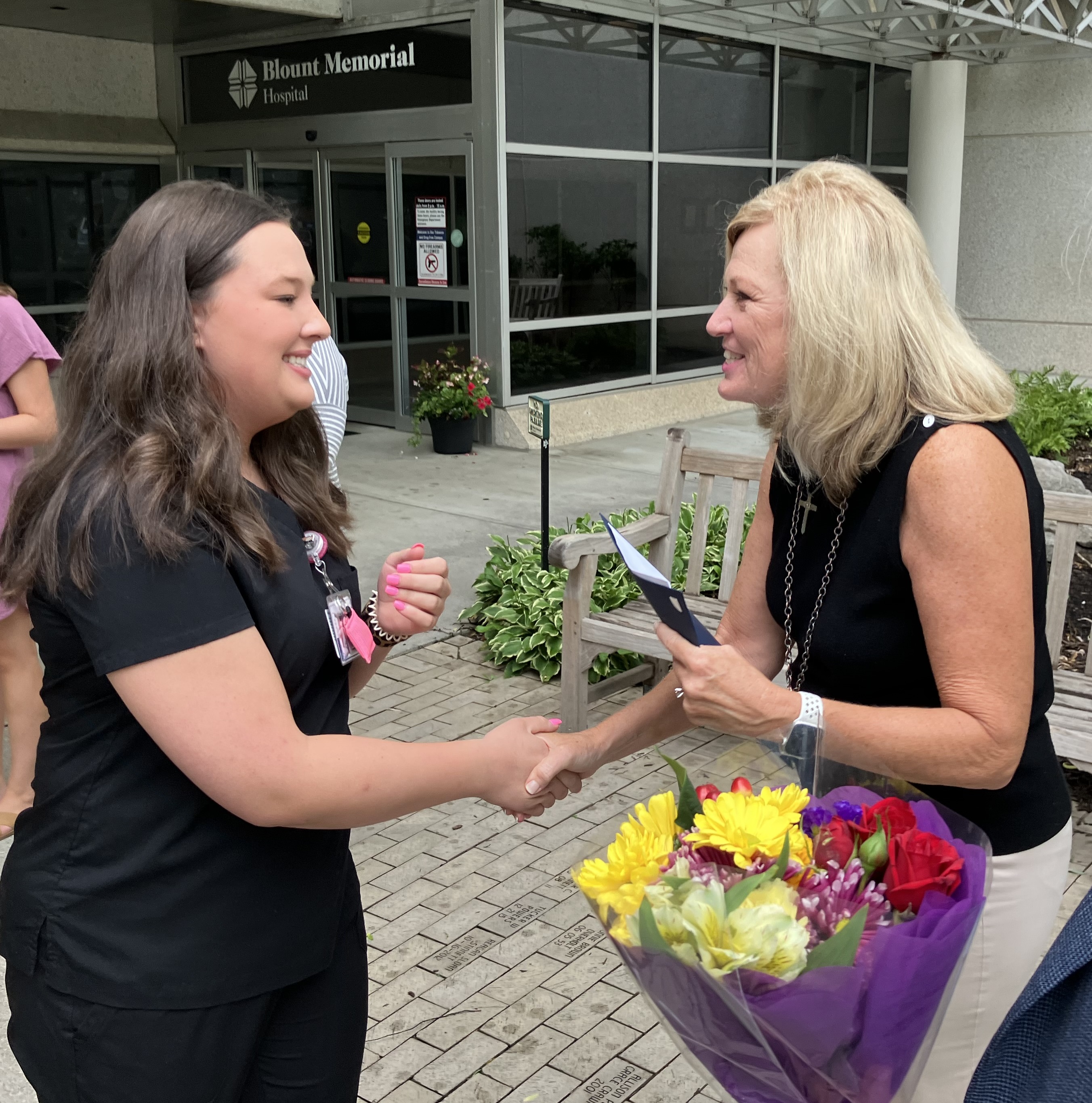 2020. She is pursuing a bachelor of science in nursing degree at Carson-Newman University.
Huffstetler also has been with Blount Memorial since 2020, and works as a certified nursing assistant (CNA) and ward clerk at Blount Memorial's Transitional Care Center at MorningView Village. She is set to become a part of Pellissippi State Community College's nursing program this August.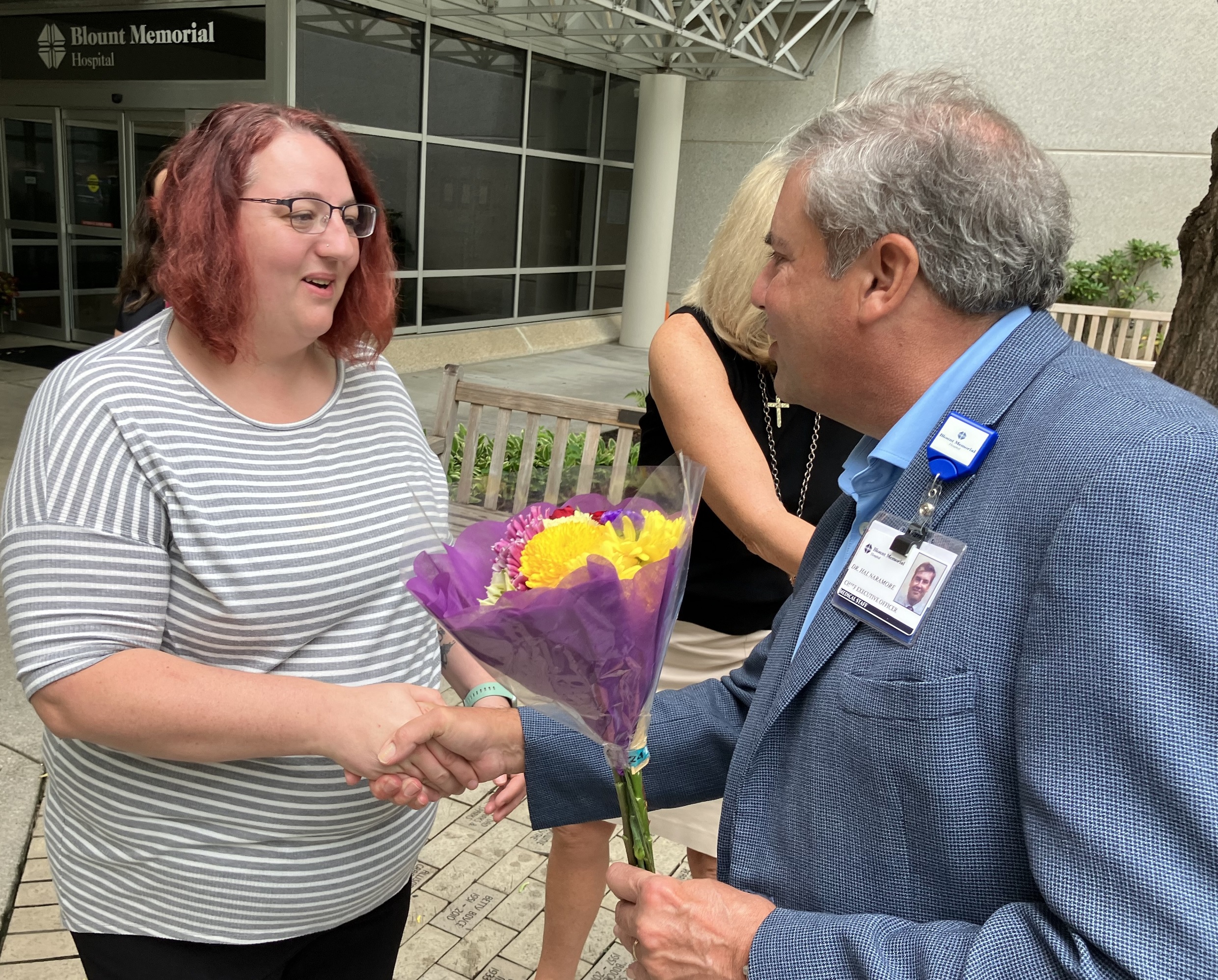 Sawtelle works as a licensed practical nurse (LPN), and joined Blount Memorial in 2019. She is currently in the registered nursing program at Pellissippi State Community College.
Waters has been with the hospital since 2019, and currently serves as an emergency department technician and certified nursing assistant (CNA). She's enrolled in the RN-BSN program at Lincoln Memorial University.
The scholarship was created in 2020 by Blount Memorial chief executive officer Dr. Harold Naramore to mark the accomplishments and contributions of the hospital's former chief nursing officer, Sonya Newman Large, who retired in 2020 after 37 years at Blount Memorial. Large was on-hand for Friday's scholarship presentation.
"I think if we can encourage people to go into nursing and stay there, that's critical to the profession," Large said. "I am so happy that Dr. Naramore and Blount Memorial have this scholarship to help nurses here do that and further their education. In their applications, these recipients talked about their desire to be nurses and you can read into that the compassion that they have for people. They really want to take good care of their patients," she continued.
"I've worked here for two years now, and I'm just grateful that the hospital is willing to invest in our futures," Huffstetler said.
"I've been paying for my classes out of pocket, so this is really going to help me get through these classes. I'm just thankful to be part of Blount Memorial and thankful for this opportunity," Sawtelle added.
"Nursing is really a calling for me," Waters said. "The Lord has put me here for a reason, and everything Blount Memorial has taught me so far is going to be useful in my future," she added.
"The emergency department here has really shown me what it means to be part of a family. I really appreciate all that they've taught me, and I know they'll support me no matter what I go on to do in the future," Mary said.
"These scholarship recipients have a commitment to Blount Memorial," said Large. "The quality of care here is outstanding, and the family atmosphere always stood out to me. We take care of each other here, and I had no desire to go anywhere else."
The Sonya Newman Large Nursing Development Scholarship awards up to $5,000 annually to help nurses and aspiring nurses achieve their education and career goals. It is open to any Blount Memorial employee who has worked at the hospital for a minimum of one year; who is in good standing; who is enrolled in or has an acceptance letter to a licensed practical nursing, registered nursing or bachelor of science in nursing program. Applications are awarded based on need, but also based on the applicant's stated reasons for wanting to be in the nursing field. Awards are for one year only, but recipients can reapply each year. Large, herself, is among those who review applications.