Registered nurse (RN) Aryel McConnell has earned the DAISY Award for Extraordinary Nurses®, becoming the fist DAISY Award recipient from Blount Memorial's Family Birthing Center.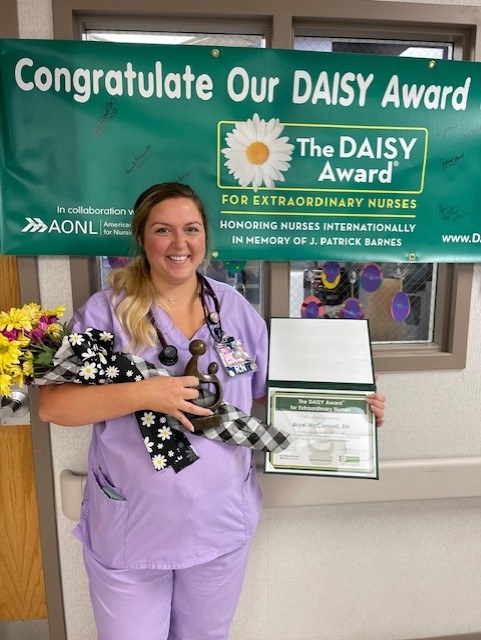 McConnell received her award, a Healers Sculpture, a DAISY pin and a certificate commending her as an "Extraordinary Nurse" on Friday, May 12, during the hospital's celebration of National Nurses Week 2023. She also added her name to Blount Memorial's banner of DAISY recipients.
She is seventh nurse from Blount Memorial to be recognized with the DAISY Award since the hospital partnered with The DAISY Foundation™ in 2020 to acknowledge the extraordinary and compassionate care nurses provide.
She was nominated by a patient and first-time mom she cared for in the Family Birthing Center. "My baby had to be put under the lights for high bilirubin levels," the patient wrote in McConnell's nomination. "Of course, my fiancé and I both were a nervous wreck and worried. We had to stay 48 hours, and of course all the staff did such a great job. We felt like Aryel went above and beyond for us and our baby girl. She reassured us and calmed us both down when we needed it most. She took time to explain everything over to us, plus even got personal by sharing how her child went through the same situation. She was also my nurse the night I gave birth, and looking back, I don't think I could've gotten a more perfect team," the patient added.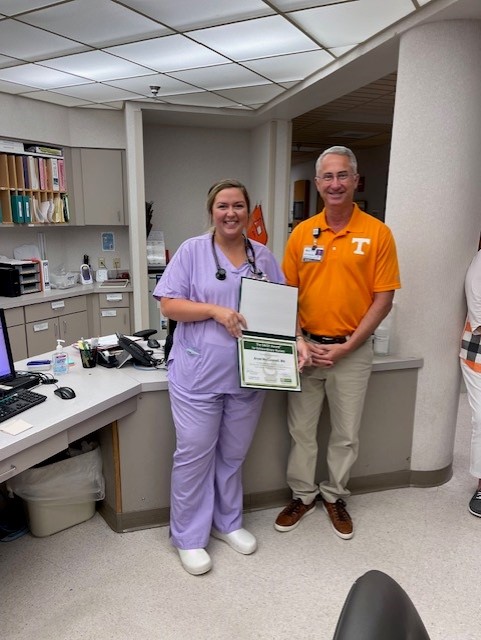 "Aryel's love for nursing comes out in every interaction with her patients," said Blount Memorial chief nursing officer Joe Newsome. "Whether she's caring for a new mom and her baby during delivery or providing expert education as her patients head home, Aryel's comforting approach is always welcome. Aryel sets a high bar for herself and our nursing team while caring for our community, and we are a stronger team because of her," he added.
Blount Memorial's association with The DAISY Foundation™ gives patients, family members, co-workers, visitors and colleagues the opportunity to nominate a nurse for the extraordinary, compassionate nursing care he or she provides. Award recipients are chosen by a committee at Blount Memorial to receive The DAISY Award for Extraordinary Nurses®. Awards are presented throughout the year.
DAISY Award nomination forms are available throughout the hospital and on the hospital's website here.
The DAISY Foundation is a not-for-profit organization, established in memory of J. Patrick Barnes, by members of his family. Patrick died at the age of 33 in late 1999 from complications of Idiopathic Thrombocytopenic Purpura (ITP), a little known but not uncommon auto-immune disease. (DAISY is an acronym for Diseases Attacking the Immune System). The care Patrick and his family received from nurses while he was ill inspired this unique means of thanking nurses for making a profound difference in the lives of their patients and patient families.