Registered nurse (RN) Lisa Gibson from Blount Memorial Hospital's intensive care unit (ICU) has earned the DAISY Award for Extraordinary Nurses®, becoming the hospital's eighth DAISY Award recipient since partnering with The DAISY Foundation™ in 2020 to acknowledge extraordinary and compassionate care in the field of nursing.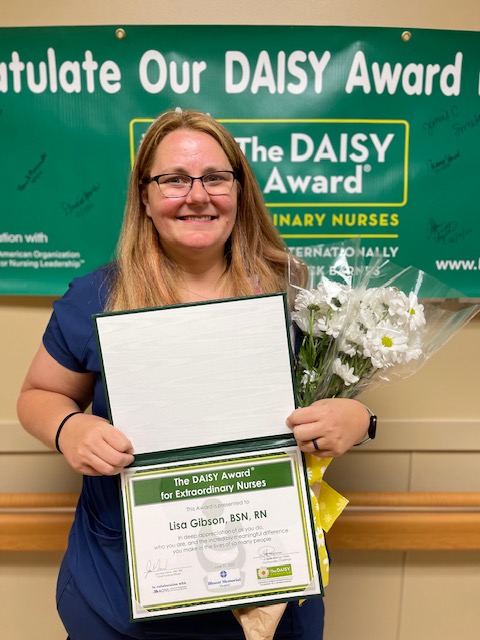 Gibson joined Blount Memorial's ICU team in 2019. She was presented her award, along with a DAISY pin, a certificate commending her as an "Extraordinary Nurse" and a Healers Sculpture on Tuesday, June 27. She also became the latest nurse to add her name to Blount Memorial's banner of DAISY recipients.
She was nominated for the impression she left on an ICU patient and his family. "When Lisa arrived, we instantly felt a different level of care, but really a ton of compassion and understanding," Gibson's nomination read. "She listened to family questions and concerns, and provided answers or touched base with doctors and gave the family a sense of understanding to the extent she could. Even once the patient was discharged, she still called the family to provide information regarding a procedure. She is the one the family was talking about to others because she made that much of an impression on us all!"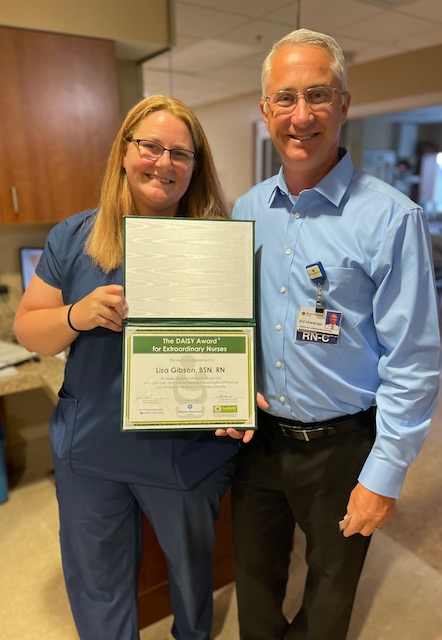 "It is scary and stressful for families to have loved ones who are sick enough to be in the hospital. Nurses like Lisa help our families through these stressful times with compassion and thoughtful explanations of the care our patients are receiving," Blount Memorial chief nursing officer Joe Newsome said. "Lisa has a great way of breaking down really complex care issues in the ICU into terms our patients and families can understand to fully participate in their own care," he added.
Blount Memorial's association with The DAISY Foundation™ gives patients, family members, co-workers, visitors and colleagues the opportunity to nominate a nurse for the extraordinary, compassionate nursing care he or she provides. Award recipients are chosen by a committee at Blount Memorial to receive The DAISY Award for Extraordinary Nurses®. Awards are presented throughout the year.
DAISY Award nomination forms are available throughout the hospital and on the hospital's website here.
The DAISY Foundation is a not-for-profit organization, established in memory of J. Patrick Barnes, by members of his family. Patrick died at the age of 33 in late 1999 from complications of Idiopathic Thrombocytopenic Purpura (ITP), a little known but not uncommon auto-immune disease. (DAISY is an acronym for Diseases Attacking the Immune System). The care Patrick and his family received from nurses while he was ill inspired this unique means of thanking nurses for making a profound difference in the lives of their patients and patient families.